Wholesale Discounts for Gardening by the Moon 2018
Planting Guide and Garden Activities Based on the Cycles of the Moon
Unique Planting Guide Helps Maximize Productivity
The Gardening by the Moon planting guide is a great tool for gardeners of all levels that will remind them to plant at the right time, according to the phase and sign of the moon. This lunar calendar gives specific monthly planting lists for your local growing region.
Discounts are available with a minimum of 12 for wholesale outlets such as organic garden centers and natural food stores, or where ever organic minded people gather.
Published since 1998, Gardening by the Moon has an enthusiastic following that comes back year after year.
Click through to see all twelve months.
Ready to Purchase? Scroll to bottom of the page.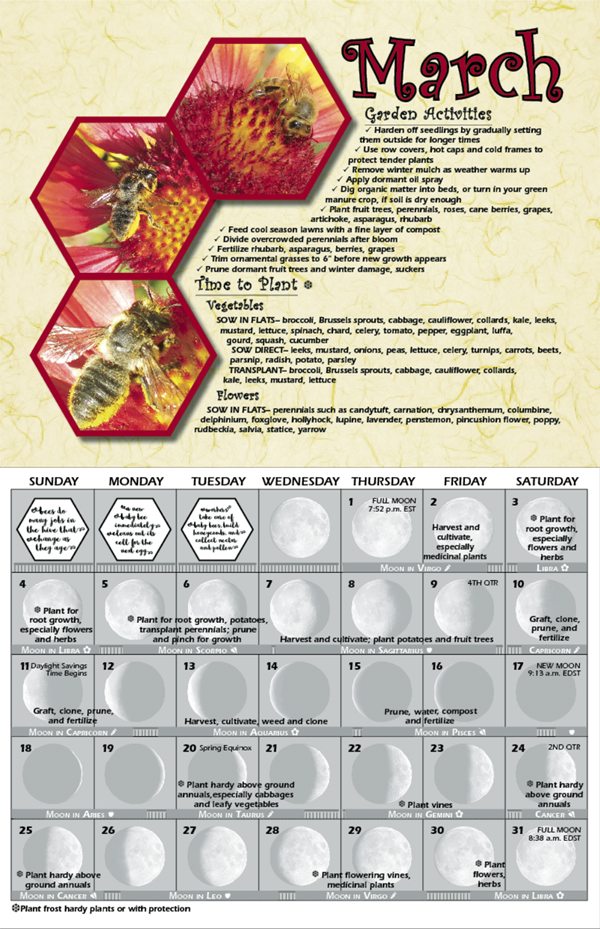 Available in three versions, based on average frost free dates.

Long Growing Season,
March 1 to November 15
Medium Growing Season,
April 15 to October 15
Short Growing Season,
May, 15 to September 30
Easy to read calendar format has a short phrase telling you the proper activities for that day
Seasonal garden activities for each month remind you of the many tasks in the garden
Planting lists are specific for your climate, and tell when to start in flats or plant direct
Daily picture of the moon phase
Three peak sales–holiday gift giving, new year calendar, and well into springtime
Cardboard counter top display for more prominent product placement
Retail price $14.95, shrink wrapped for resale
FAQs
For problems or questions
Email customer service caren
@gardeningbythemoon.com or phone 707.869.3974
(M,W afternoons, Friday morning Pacific time).