The Moon Planting Matrix Software
Customize to Your Exact Local Frost Free Dates and Preferances
Customize your frost dates, all time zones and DST, temperature, and units of measurement
Shows best days for moon phase and astrological sign planting in a calendar format
Includes cultivation information on 50 vegetables and flowers, with capability of editing, adding plants, storing notes and harvest records
One year of moon phase and sign data included with the software.
Planting lists you can print and take to the garden
Try it free for 30 days, then purchase registration key to enable saving and printing. Registration number will be processed within 24 hours
Download the 30 Day Free trial, try it out, then return to buy registration
2021 Moon Data version 2.1.9.2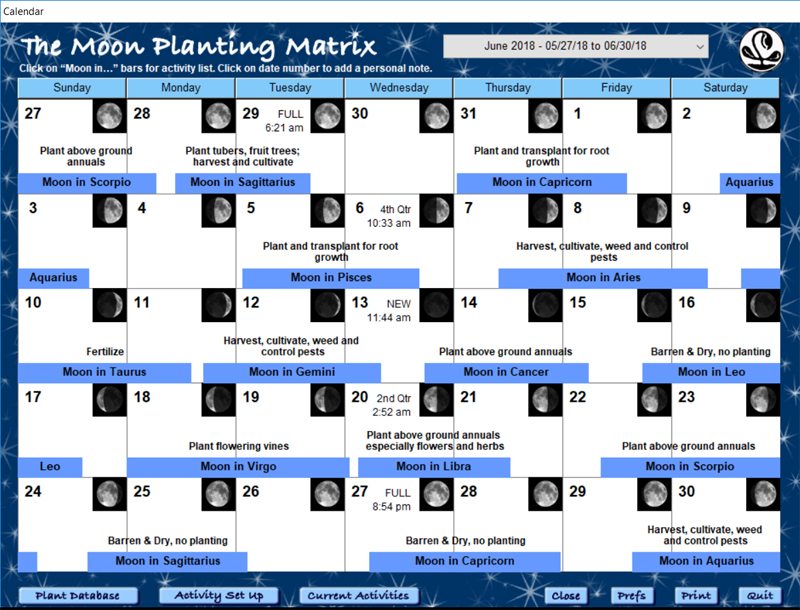 Monthly Calendar
Shows the moon phase and sign for each day, in local time.
Short phrases tell you what type of planting or activity is good for that sign.
Click on the turquoise "Moon in…" bar to see lunar planting activities for that sign.
You can add personal notes to the days by clicking on the date.
Preferences Screen
Set up is easy and should take about 15 minutes.
Enter your exact frost dates, time zone, preferences for daylight savings time, and units of measurement (12 or 24 hour clock, C or F, inches or metric).
Choose to include earliest indoor seed starting dates.
Click on Create Planting Lists and it will calculate the best planting dates for your garden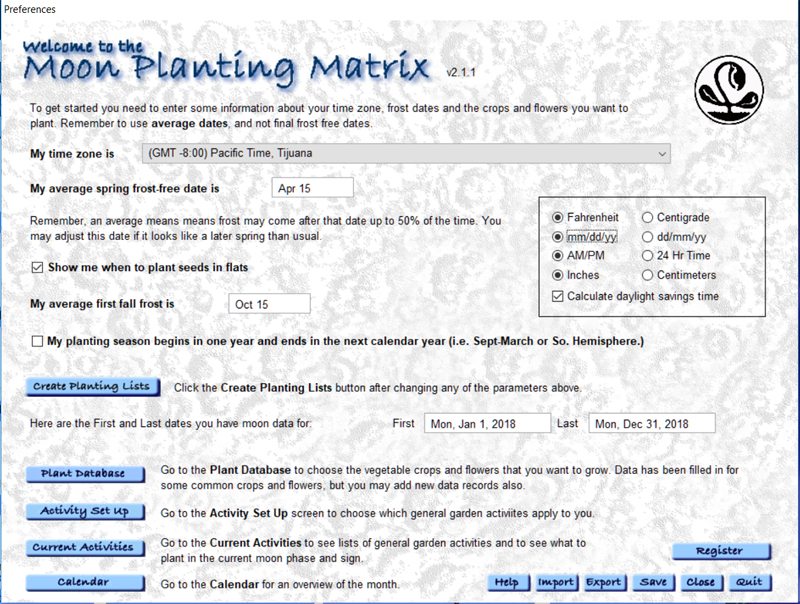 Three separate screens for plant characteristics, planting dates, and moon preference
Plant Database
Comes with over fifty annual vegetable crops and flowers included.
Shows plant characteristics such as preferred soil and air temperature, planting depth and spacing, and best moon sign and phase.
Lists best lunar planting dates for planting inside, outside, or transplanting seedlings.
Enter a date planted and calculate harvest window.
Add, remove, copy or temporarily deactivate crops for your own garden needs.
Store cultivation notes and harvest records.
Current Activities Screen
This screen lists the garden tasks for the month and a planting list for the specified date range.
Lists when a crop can be planted inside as seeds, directly in the ground, or transplanted as seedlings only, all on one screen.
You can add, remove, deactivate or filter the activities to fit your garden.
Print feature allows you to take the lists with you into the garden.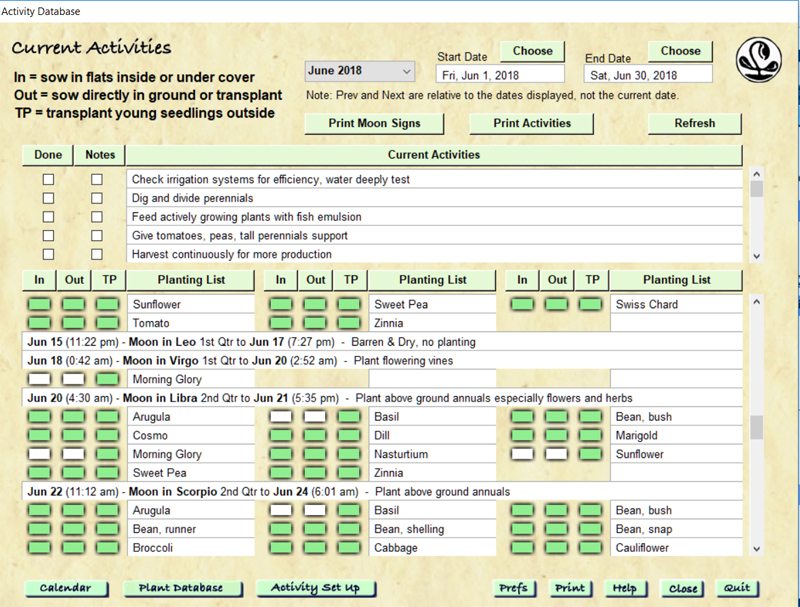 Regretfully we have decided to discontinue the Southern Hemisphere version of the Moon Planting Matrix.
Ready to check out? Click the Cart icon in the top navigation bar.