Gardening by the Moon 2022
Planting Guide and Garden Activities Based on the Cycles of the Moon
Gardening by the Moon 2022 is the best moon calendar for gardeners, with more planting information specific to your climate!
There is always something to do in the garden, and this unique tool keeps you on track. By working with the forces of nature you can have a more abundant harvest.
The lunar gravitational pull increases the moisture in the soil at the time of the new and full moon, encouraging germination and growth.
Choose your local growing season
Click through to see all twelve months.
Scroll to the bottom for quick shopping links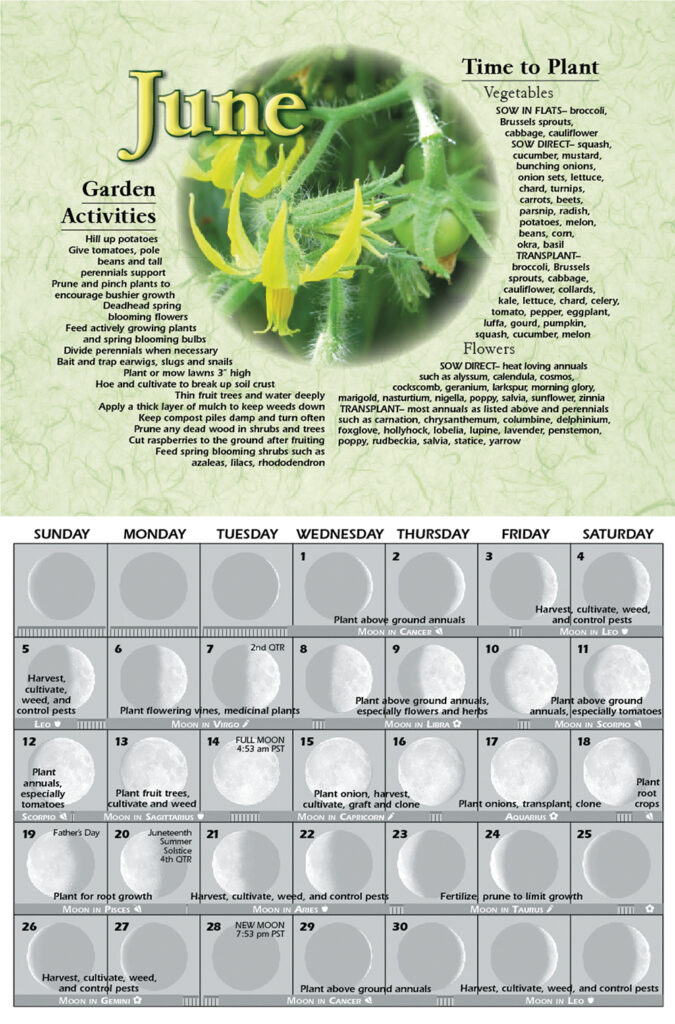 Planting by the moon information in a calendar format makes the practice of gardening by the moon phases easy to understand and follow.  Here's what our Gardening by the Moon 2022 Calendar features:
The best days for planting by the phase and sign of the moon, with a short phrase to guide you for the day
When to plant vegetable and flower seeds in flats or set out in the garden, according to your local frost dates
Monthly reminders of seasonal garden activities to keep you on track
Daily moon phase and sign, and the time of full and new moons
Color photographs, hangs open at 11″ x 17″
Shows root, leaf, flower, seed days
The PDF pages look the same as the wall calendar
Gardening by the Moon Calendar 2022 is Available in both Printed and Digital format
The printed wall calendar explaining gardening by the moon phases. See below.
An instant digital download, print-it-yourself PDF. Buy it by the year or just a few months.
The Moon Planting Matrix Software program has been discontinued
Three Different Regional Choices, Based on Your Average Frost Free Dates
FAQs
Satisfaction Guaranteed
We offer a 100% satisfaction guarantee. If you're not absolutely delighted, we'll refund your money, or exchange it for another version of Gardening by the Moon.
Email Divine Inspiration at caren
@gardeningbythemoon.com or phone 707.869.3974
Ready to check out? Click the Cart icon in the top navigation bar.